Today is my Grandmother Myrtle's one hundred eighteenth birthday. She has been gone since 1982 and yet every time I think of her, I remember kindness.
She was the kindest person I have ever known.
Myrtle was one of those people who made you feel special. That is a too rare gift, especially when it is bestowed from an adult to a child.
When I was a kid, Gran went out of her way, quietly and without fanfare, to make sure that I felt every bit as important as the grown ups in her life. She bought play dough and assembled kitchen toys, keeping them stowed in her walk in pantry for any time I might visit.
She valued my exploration and growth more than any precious piece of furniture or beloved collectable and she was wise enough to know how to set reasonable, kind limits.
A collection of records of the day were available to play. I can still hear the old walnut encased record player filling her modest apartment with music.
Gran made the most amazing family style dinners. Pork tenderloin is one I recall. Tender medallions of gravy drenched heaven accompanied with home made mashed potatoes, veggies and what she called "Ice Box Cake" for dessert. This decadent concoction (name reflecting a time before electric refrigeration) incorporated delicate lady finger cakes, butter, chocolate and whipped creaminess filling. Heaven.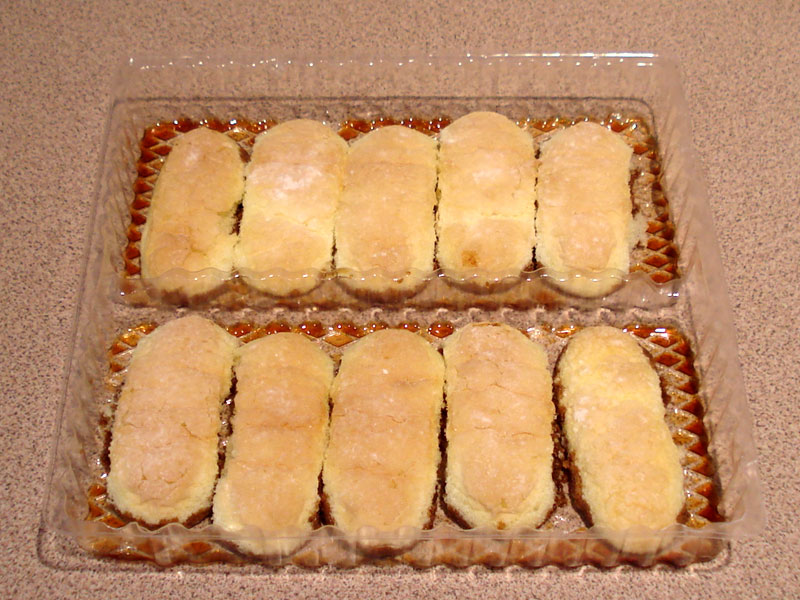 image of lady fingers
Ice Box Cake
4 eggs
1 cup granulated sugar
1/2 pound sweet butter
1/2 bar Bakers sweet chocolate
2 1/2 dozen sponge cake lady fingers
Melt chocolate with one teaspoon water. Stir until smooth. Cream butter in medium bowl. Add in sugar, then add chocolate. Beat four eggs for five minutes in separate bowl, then add mixture to eggs and beat until creamy.
Grease 2 ice cube trays with cooking spray or oil. Slice lady fingers in half horizontally and line the trays. Pour 1/2 chocolate mixture and spread to cover ladyfinger layer. Repeat with second layer of lady fingers, chocolate–ending with lady fingers on top.
Chill overnight in ice box.
***************************
Gran was Norwegian.  Her mum immigrated to Chicago from Norway as a young woman in the late nineteenth century. Great gran was a widow too young and raised seven children with the help of what has also largely gone out of fashion–her family and neighbors. Gran was number six in line. Her great gran in fact was a baker in the royal court, so she came by her baking wizardry honestly. Before the days of low fat this and reduced calorie that, we enjoyed reasonable portions of real food that nourished our bodies and our souls.
Thank you for taking me to the toy store 'by accident' as we did your errands in Chicago's 'Loop' together. Thanks for buying a small trinket there to make me feel special. Thanks for letting me dig in your garden. Thanks for the memory of rich cooking aromas and laughter.
Most of all, thank you for making me feel like an important person at a time when the old adage 'children should be seen and not heard' was still largely accepted as wise.
I loved you then, I love you still and as long as I live, you will be alive too, not only in my heart but in the ways you taught me. First and foremost–be kind.