They say the best things are worth the longest wait and that they come in small packages.
That being true…
The BEST is coming your way.
A couple years ago I had the opportunity to ride a top of the line Harley Heritage Classic. All chrome, gloss and power, it ate up the Ventura Highway as I rode, arms about one glorious man, along the Pacific shore.
Winter– Kayenta Arizona- mesas sprinkled with powdered sugar snow, air permeated with the spirit of the ancient native culture, I explore the world of skinwalkers, code talkers, Anasazi and the majesty of Monument Valley.
May–the glare of the spotlight in my eyes, I sing to a sea of upturned faces, my fellow pop jazz vocal group a step behind me. A frision of excitement steeped in terror slides down my spine.
Characters occupy the theater of my mind. A jazz vocalist, a hard driving motorcycle mechanic, a rock star and his amazing manager…
A year later my completed manuscripts, Shadows Steal the Light and Hog Wild, are accepted for publication by Tiger Publications and my place as a Romance Writers Of America "PAN" (Published Author Network) is ensconced in the promise of literary advance on royalties. A few months later my rights are returned as Tiger closes its door–Hog Wild not released. Corporate failure.
I cry.
Another year later I finally feel safe enough/healed enough/ strong enough to submit my Shadows Steal the Light and its spin off, Hog Wild, to the most amazing start up publisher. Product of her own career stunting setbacks, the owner of MuseItHot publishing of Canada accepts Shadows Steal the Light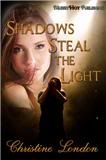 Book Cover by Delilah K Stephans
AND Hog Wild for contract.
I cry.
What different tears.
Friday, 3rd of June 2011
Steeped in dreams, product of love and pain
Hog Wild
A small package anticipated for years…
This novella means a lot, not only to me, but to anyone who has been lured by the incredible beauty of the American Southwest…by the spirituality of our native American culture…by a life altering struggle that has nearly robbed you of your desire to continue.
Not unlike music producer Kyle Matthews, I find myself at a place in my life where the known is suddenly foreign and the trajectory toward success as uncertain as shifting sands beneath your feet.
The deep umbers, rich coppers and brilliant oranges ignite across your literary screen when you hop on the black leather seat, arms about Kyle, for a journey you'll not soon forget.
Come along…
Hog Wild
Amazed and honoured to have my seventh published work about to break on the scene!
Hog Wild
By Christine London
Sinclair MacTavish ruled the world of motorcycle mechanics, able to repair anything under the Four Corner's sun. But when a cynical road weary Brit crashes through the door of her garage, she's in for more than just another cantankerous client. He just may be the challenge of her life.
It was a cold winter's day in Kayenta Arizona, Navajo Territory when I first experienced the majesty of Monument Valley and the surrounding ancient Navajo lands. Won't you come along with me and one fantastic man named Kyle Matthews, to the American desert Southwest?
Kyle is trying to escape losing in love to his best friend, rocketing through the southwest on a top of the line Harley Heritage Classic when he stumbles upon a place–and a woman—that open his eyes to what's really important.
June 3rd from MuseItHot Publishing
Hog Wild
Book Cover by Delilah K Stephans
http://tinyurl.com/3mxbxsm
Christine London
Author of Shadows Steal The Light
Visit my website at
www.christinelondon .com for the latest!