A flipping of the calendar from one month of 'ending' to the next–a new beginning?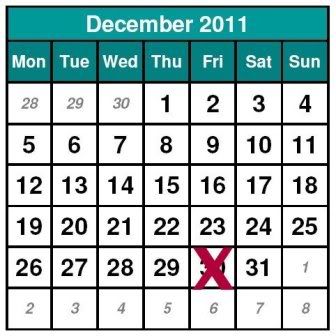 Here we are in January of a brand spanking new year. More days counted on a calendar of human design, yet as good a reason as any to evaluate—re-evaluate our lives and what's happening around us.
Hey…any reason to introspect gets a gold star in my book. A friend of mine took the momentous occasion to list her ten hottest guys of 2011. Hmm… The airwaves are full of ads to join a gym, a diet center, a technical college. Improve yourself, improve you life, get off the couch, join in on the human race.
What about twelve months wears down our resolve–our desire to make every day count? Is it failing optimism? No. Our need to look to the sunrise in search of unending possibilities?
Perhaps.
Like an Etcha sketch we need to shake up our lives and erase that which we find wanting. Our never ending ability to start again is the stuff of human invention and success. We move forward, albeit three steps forward, two back, in uneven struggle. When we have risen to the occasion enough times, we wear out and new life takes over in the never-ending dance.
One job not any better or more valuable than the next, each of us finds a niche in which we can contribute to the forward motion of life. Each has a unique moment of personal destiny. Each a place in human destiny. Through the power of intention we can choose to step out of our history into the light of a new day, month, year—life.
I put it to you that in this time of new beginnings disallow how others define you and look inside to ask how you might best serve others in this cause called humanity. What makes your heart soar? What would you do even if no one paid or noticed? What would propel you from bed every morning into a new day of living your passion?
You can help. Use whatever connection you have with however many people you influence. No preaching necessary. It is through respect–allowing people to see for themselves how their lives can be better by the gift you offer.
Whether that be shining a shoe,
selling broccoli,
making a bed,
framing a house
or painting a beautiful picture
—you have an integral gift to offer. It may never receive accolades or notice, but if it adds positive energy, influence, life to the world; you have been a success.
Move toward your dream each and every day. No matter how small that forward motion, it and you make what the world calls humanity, better, smarter, more stable, more meaningful. One heart touched, one life altered for the good, one day, one hand, one heart at a time.
2012 the end of the (Mayan) calendar–the beginning of another, a chance to improve, move forward, live and love every daybreak, every sunset, every success, every failure. Live, breathe, move forward toward your supreme moment of destiny.