The book of my heart and wonderfully reviewed
Soul In His Eyes

Is at long last AVAILABLE in
Scotland's Hottest Actor…
… is rescued from the lonely isolation of fame by an unlikely fan living half a world away. Little does she know he will return the favor when her world is torn apart by tragedy.
****
What would you do if suddenly, unexpectedly, a man entered your world…testing your attitudes, challenging your integrity, dislodging your emotional equilibrium and haunting your dreams with his eyes— Not just any man, but Hollywood's hottest Scottish actor?
Glasgow's rough streets and the celebrity of Hollywood may seem light years apart, but when it comes to deliverance from the isolation inherent in both it is the unexpected that brings salvation to superstar Erik Bartholomew. Born and raised in a Glasgow working class suburb, hard drinking drop out of elite university programme, latecomer to acting, Hollywood's hottest actor is having second thoughts about the invasive spotlight of fame.
A Los Angeles kindergarten teacher has never had cause to interact with Hollywood's elite, much less consider the implications of a brush with fame until her quiet life is turned upside down by one chance encounter. What is the mysterious draw between such disparate people that is powerful enough to overcome distance and time? It is as if she can read his very soul through his eyes.

Fascinated by her pointed questions and almost magical ability to see into the depths of him, Erik reaches out to Christine in curiosity and attraction.
Is the gap between ordinary and mega stardom insurmountable?
Become a part of their world
Soul In His Eyes
By Christine London
Available for pre-order in print NOW!!
Phaze Books at Phaze.com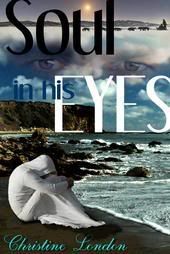 Book Cover by Alex Kent