A warm sunny Saturday afternoon is just perfect for a book festival.
All images on 'Burbank Celebrates Its Centennial' By C London
The day before Mother's Day brought out many families to the Buena Vista Branch of Burbank Library in the center of the area that hosts television and film studios. Gratifying to see there are such enthusiastic folks that know a good read when they see one.
Los Angeles Romance Authors, Sisters In Crime, Screenwriters and more than one hundred Burbank authors were on hand. Three panels provided opportunity for booklovers to interact and learn about the publishing world in all its variety. Electronic books, self published, small press and New York published were all represented. Aspiring authors added their zest for success to a day that will be long remembered. Burbank celebrated love of the written word and their centennial with lots of fun for all.
Jennifer Haymore & Christine London (behind Christine Ashworth, Dayle Dermatis & Charlene Sands of Los Angeles Romance Authors 'LARA')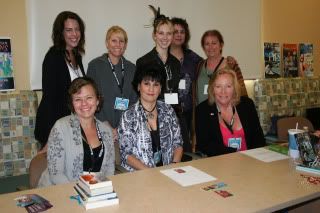 (back, L>R)Anne Kemp,Robin Bielman, Suzanne Lazear,Dayle Dermatis, Christine Ashworth (front L>R)Jennifer Haymore, Charlene Sands, Christine London