Day Two
Monthly meetings at which an author, agent or editor spoke didn't seem enough. Bitten by the writer's bug, I had it bad. I needed to know everything I could about the business side of this new undertaking I had been drawn to and I needed to know ASAP. Like a house on fire, I checked out tapes recorded at past conference workshops, jotted down notes/pearls of wisdom from guest speakers, researched agents and editors online, read every craft book recommended and began reading what other successful authors of romance wrote.
Goodness…how wonderful! There was a world of fiction out there that was not dreary and gritty. Covering a range as wide as fiction itself, romance, I was to discover has only two rules:
-The story must contain a developing romantic relationship
-It must have a happy or satisfying ending
Wow….life should be so grand. Actually life can be and is—or so I was to discover. It seems that when you emanate positivism and enthusiasm you are contagious. I began to draw to me what I seemed to need. Experts and successful people within the publishing community were there to be accessed through the RWA and online. I began to research and attend Hollywood events. After all, I now lived on the doorstep of the film world and what better way to write realistically about a subject, place or persons than to actually immerse yourself in their world? It seems there are a lot of people who want to know about these events people and places as well. I began a blog.
Bringing my growing readership along with me, I traveled to the UK, took photographs of the places I went and wrote about it. Continuing with my monthly RWA meetings and workshops, I stuffed my head with knowledge and reaped wisdom from those who had forged this path before me.
I discovered the weaknesses in my now completed first manuscript (Soul In His Eyes) and began edits.
Whilst in the UK on a house trade another story occurred to me. I had read of an up and coming book faire that was to move to Earls Court London the following spring. Boy would I love to attend. Unaffordable? (Especially considering I was already in the UK on holiday and could not see myself making two trips in one year)
Write it! (Of course, silly!)
Once again I found myself possessed by a story. Californian spicy romance authoress travels to UK to attend international book faire staying at old college friend's rural cottage just outside the city. A freak snowstorm hits in April paralyzing London (as it occasionally does) and surrounds. Isolated at the cottage and unannounced, her ex boyfriend drops in. They think they are still in hate, but fate has other plans. Sunninghill Snow was born.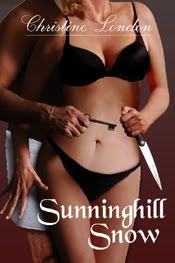 Book Cover By Alex Kent
I wrote the book nearly entirely whilst in the UK. After a day out I'd type into the wee hours of the night. Using my gained knowledge of setting, pace and point of view, I wrote a fun fast and hot tale of two people who just didn't seem to realize they'd never stopped loving each other.
Returning to Los Angeles, I polished the story and sent it off to a couple targeted publishers. Two of my LARA colleagues had already been successful with Phaze Books, so Phaze was on my short list. Freshly inspired by New York published author Shelley Bradley and her hot contemporaries as well as having listened to workshop tapes on how to write a spicy novella, I penned a really fun sexy story. It was offered contract by Phaze Books within weeks of submittal. I was on my way.
It was now October of 2006–fifteen months from first keystroke to contract– nearly unheard of as I was to find out. Now in the midst of writing a romantic suspense, I was bogged down by all the red herrings and intrigue requiring close attention to detail. Evidently writing a suspense/thriller is one of the most difficult things to do. I knew not, once again charging forward unthwarted by convention and tales of doom.
There was this sexy English rock star in my mind and his equally charismatic personal manager. My experience with rock and roll groups through my brother left me with definite mixed feelings as to the desirability of becoming ensconced in this world. Wouldn't any reasonable woman feel the same? Let's take it a step farther and make the heroine hate rockers. Shadows Steal The Light was on its way.
Would my first manuscript ever see the light of day (like most first manuscripts) relegated to a dusty place under the bed?
…to be continued