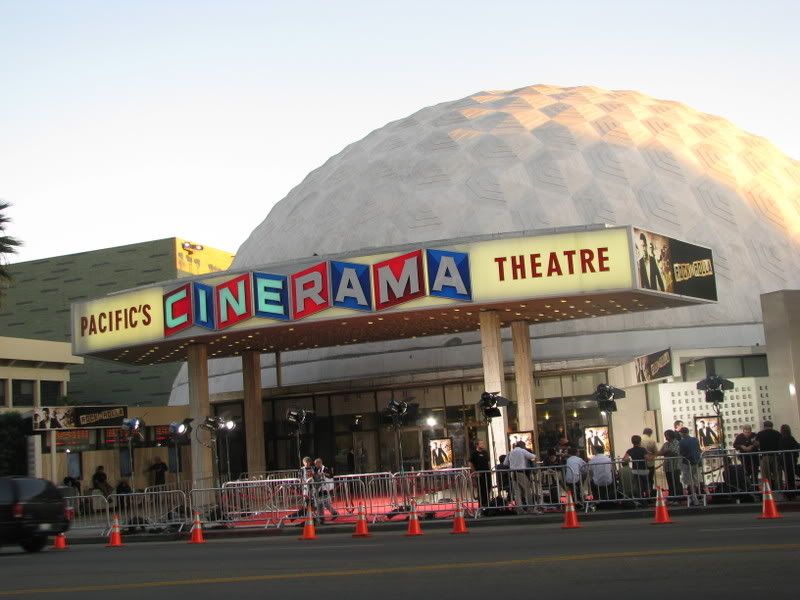 Image By C London
The moon rose over Hollywood's Cinerama Dome this evening in a warm cloudless sky.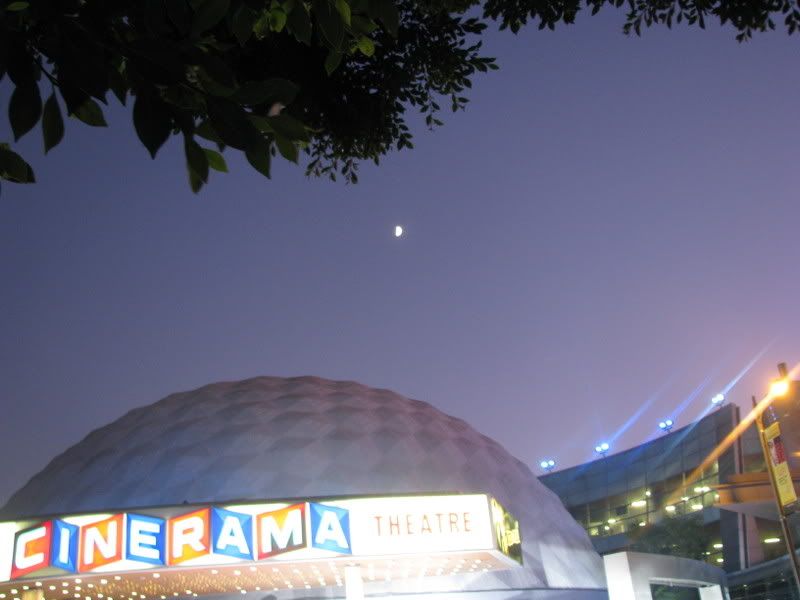 Image By C London
Press was busy scurrying about to prepare for the premiere of Guy Riche's new film, RocknRolla.
It had already been a busy day for the film's star, Gerard Butler. He'd just finished taping the Tonight Show with Jay Leno over in Burbank with barely two hours between gigs. His usual talkative self, Gerry asked, "Can I just add something?" when Jay moved a bit too fast from one question to the next.
"I always have a funny story," Butler replied.
The discussion popped about from story to story. One was of the freezing water whilst filming Mrs. Brown. ("Objects in mirror are larger than they appear", Leno quipped as a save to Gerry's recount of running into the sea naked with resulting male shrinkage). Another was about his auntie replying to a female classmate at a reunion as to why she (the auntie) still looked so young. "Well you've had three children and I've not," auntie said. Blush when auntie realized her classmate had only been making a rhetorical compliment.
Jay said Gerry looked more like he was constipated than in the throws of ecstasy when Butler imitated the facial expressions he had made during a close up of a very brief sex scene with Thandie Newton in the Oct 8th film release, RocknRolla. The audience roared.
"Do you spend a lot of time in the gym," Leno asked.
Gerry admitted that some of his roles required it and he'd recently gone back to a workout regime. "Just like everyone, if I'm at the beach and look down and say …eeewww, I know I'd best do something about it."
While showering after said workout Butler relayed a story about being ogled by a man in the locker room. Thinking the man might have been gay, Ger thought, "okay, whatever, no problem."…until a burst of spray from the shower splashed across his visual screen. He realized he still had his sunglasses on, and nothing else. He made a point of passing the man upon exiting the gym (feigning eye problems)–squint, grimace—so the man wouldn't think him a complete idiot. Jay thought that quite endearing; Gerry felt the need to make sure a perfect stranger did not think him odd.
Butler sat in the background next to Jay and laughed during comedienne, Natasha Leggero's, routine about reality TV, particularly her rendition of American Idol auditions. Jay and Gerry spoke almost non-stop during commercial breaks, Ger leaning conspiratorially to Jay's ear to be heard over the fabulous Tonight Show Band.
Show a rap, Butler encouraged one audience member to hop onstage to be auditioned for a future taping's segment. "Come on up, Phil…don't be shy."
It was nearly eight by the time Gerard arrived on the red carpet. Most other guests and stars had either been seated of were being interviewed by press. My personal assistant had made a query or two. Evidently the theatre was experiencing some sort of power failure, the interior sweltering. Will call tickets were still being sorted and a general air of last minute frenzy crackled.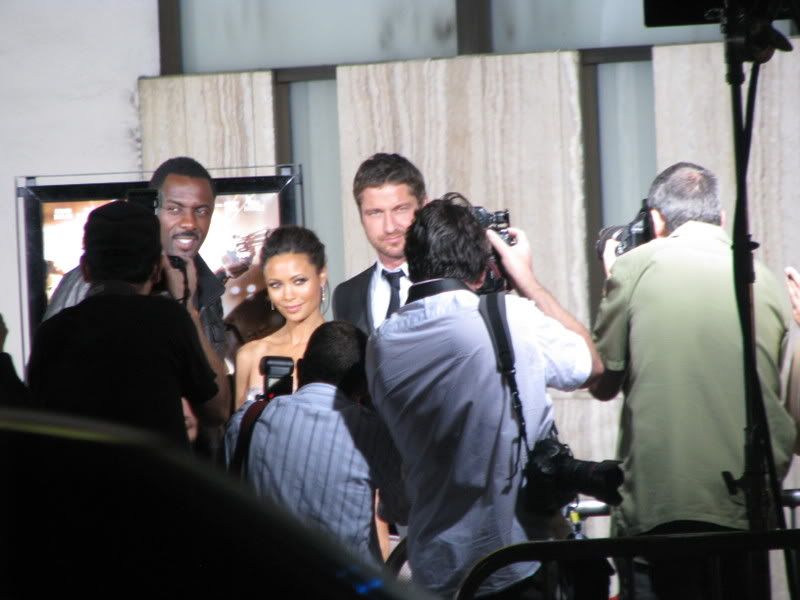 Image of Thandie Newton & Gerard Butler by C London
Producer Joel Silver hovered about his handsome flock of stars. Thandie, Gerry and Idris Elba posed together, before Gerry moved along, spending an amazing amount of time with one segment of press. His publicist finally pulled him toward the ever patient clutch of fans.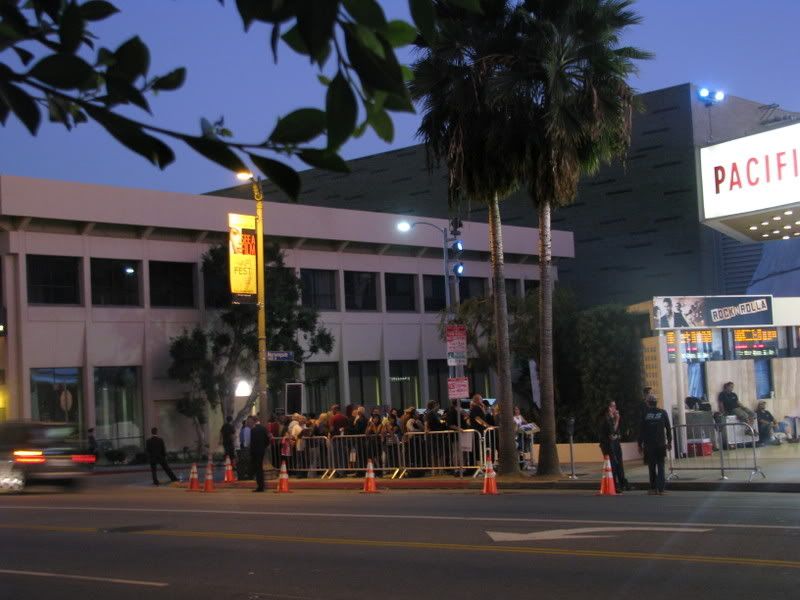 Image by C London
Signing autographs until twenty after the hour, Butler finally made his way into the theatre. I suppose they could have started the film on time at eight without him—he does know the storyline, but rather doubt they'd be so gauche. Hopefully the power was restored to the air conditioning by that time. Whew…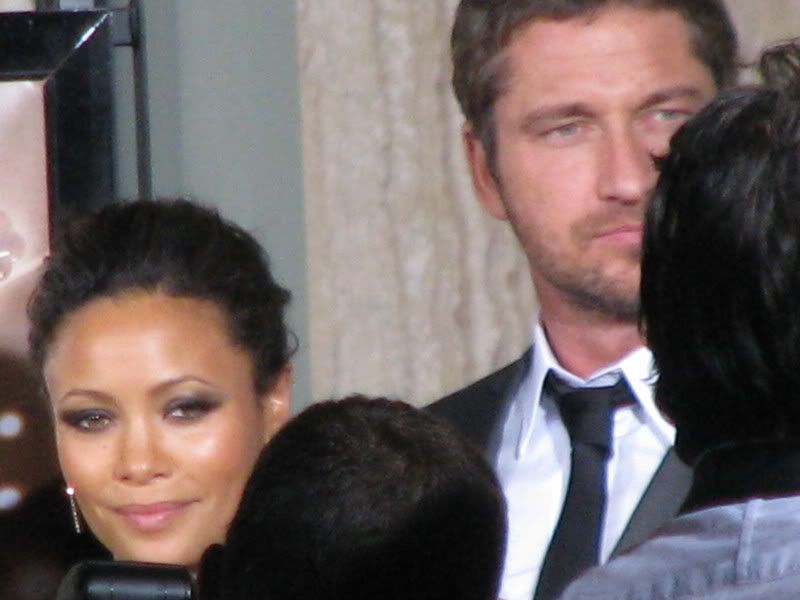 Image of Thandie Newton and Gerard Butler by C London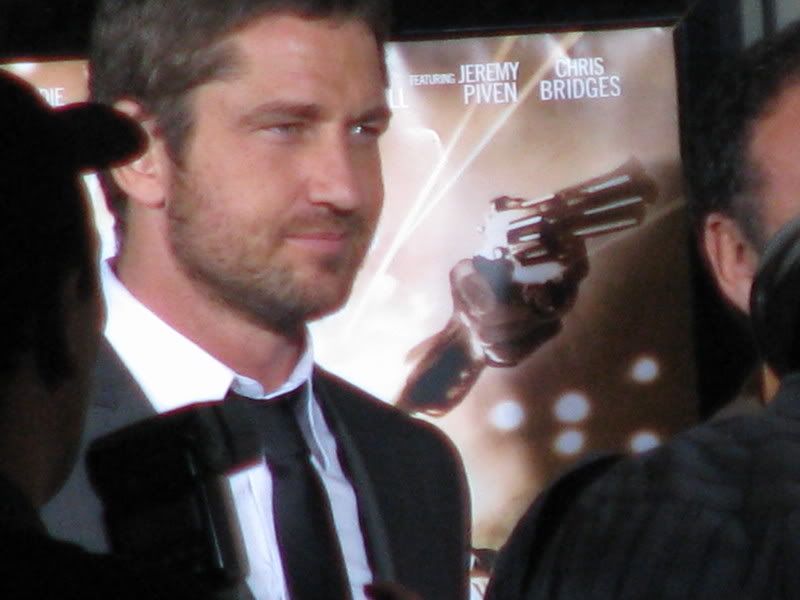 Image of Gerard Butler By C London
Image by C London
Image by C London
Image By C London