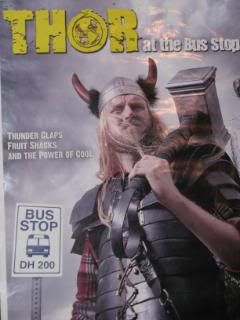 What is Thor, the mythical Norse God of lightning doing in a Spielbergian suburban neighbourhood? Why spending his last day on earth pissed off that no one has noticed all he's done to save the world. THOR AT THE BUS STOP, the directorial feature film debut of brother team Jerry and Mike Thompson had its premiere at the Brendan Theater in Las Vegas Friday night. Thebrothers have written and directed over a dozen multi-award winning short films together, this one being a compilation of two and an effort of their production company Light Forge Studios.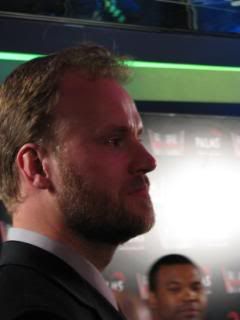 Jerry Thompson
The storyline is an interweaving of various day-in-the life scenarios catalyzed by the title character, whose angst over being the unsung savior of the world, sets off a string of random lightning strikes. Vignettes by comedian/magician Teller of Penn and Teller add a dash of wry humor (http://www.pennandteller.com/). If you've never heard him speak…here's your chance.
THOR is packed with screwball characters and themes about goodness, apathy in the modern world and the power of cool. Subtle comedic antics are the superglue that holds this camp pop culture flick together. The brand of silly comedy will appeal to those who like SNL humor. This directing team is one to watch as they grow.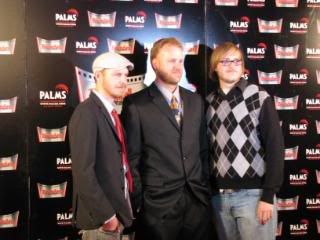 Mike and Jerry Thompson and non-directing brother Scott (actor in the film)
Produced by veteran internationally recognized feature film and television writer/director David Schmoeller, this newest offering is yet another addition to his impressive list of work. Schmoeller is currently an Associate Professor of film production at the University of Nevada, Las Vegas and runs the Film Department's UNLV Short Film Archive.
Coming to DVD October 31st, an amusing look at a side of Vegas seldom seen can be pre-ordered through the film's website http://thoratthebusstop.com
http://thoratthebusstop.com/products-page/items-for-sale/thor-at-the-bus-stop-full-length-dvd/