Once every spring those few and fortunate who love romance fiction and can slip away from their everday lives gather, network, promote, learn and celebrate what is the most life affirming of literary genres. This April the RT Booklovers Convention was held on lushly landscaped forty six acres of Orlando, Florida known as The Wyndham Resort.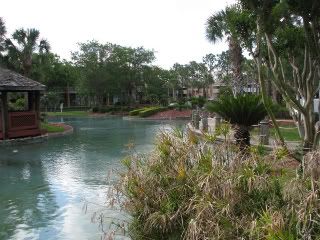 All Images By C London


Had the variety of workshops, talks and events not been so riveting, a body might have been tempted to spend the day around one of the three beautiful pools, sunhat on head margarita in hand.
Outside my window but a stone's throw away splashed a fountain in the center of a sprawling blue lagoon. A mother duck herded her brood of seven, drake waddling not far away in the waxy green foliage. The air hung with spring florals and hummed with new life.
But a handful of attendees complained their rooms were too far from the convention center. Those sparse half-hearted observations trickled and ended as the world weary writers, editors, publishers and readers unwound from their workaday lives and discovered the simple joy in strolling through semitropical gardens to a world class facility brimming with publishing's elite.

Wednesday's electronic and small press expo attracted those growing numbers that have made the leap to green reading.



Alessia Brio, Christine London & Will Belegon Image by C London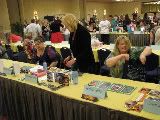 No more storage problems, no trip to the brick and mortar store necessary, fans roamed through the aisles of authors and publishers in search of new writers to meet and more downloads to purchase at half a paper book's price. Amazon's Kindle is, after all Oprah's new favorite thing and it is no wonder why. With the cost of extra poundage and limitations on the number of bags flying passengers are now allowed, those ten ounces in the form of any one of the numerous electronic reading platform/devices are mighty attractive for vacationers and business travelers alike. Even your morning newspaper can be delivered before room service on a Kindle.
Whilst schmoozing with authors, editors and readers, I met three of the men vying for the coveted Mr. Romance. These aspiring cover models spent their time meeting and greeting the hundreds of women readers and authors. Their charm and goodlooks did not go unheeded by the ladies.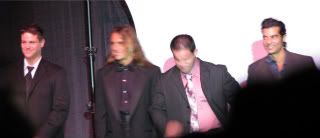 All Images By C London
Thamale colleaguops. A unique blend of networking, learning and plain old fun, Mr. Barry Eisler has discovered the delight of RT. One panel "He sex, She sex" had the audience rolling. Who would have thought a thriller author could make such a splash in tth him. Could it be the beginning of a trend? Traditional male testosterone based authors meet women's sensibilities. As Eisler commented, he figured it out when he kept getting e-mails from wives of readers who were turned on to his work by their hubbies.
"Hmmm…where can I meet more female readers." he asked himself. Well duhhh….
Can an influx of men at Romance Writers of America's National Convention be far behind?
As Barry also said, "Where else can a guy be asked the question 'Hey—what 'cha wearin' to the faery ball tonight?'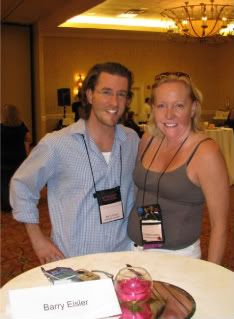 All Images By C London
As the boundaries of fiction's many genres blur and mix, more and more readers are discovering a romance as good or better than any other novel. Heart wrenching emotions, gut twisting suspense, eerie paranormals, sci fi time travels and futuristic settings, glamorous or gritty contemporaries and fascinating historicals are all available under the romance umbrella. The only two things to absolutely expect in a romance are a focus on a developing (romantic) relationship and a happy or satisfying ending. In these tough times more and more people are turning to the escape a book affords at such minimal cost. Perhaps this is why in an economy of downturns and layoffs, romances are one of the few up trends.
Mega publisher Elloras Cave sponsored the first evening's fantasy party. Jungle themed, folks arrived in their leopard prints, leafy green dresses and dancing shoes.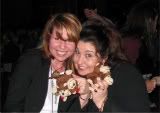 After a short bit of gyrating entertainment by the beefy EC covermodels clad in no more than shorts, the dance floor filled and the room rocked with everything from rap to seventies oldies. After a day of learning about online marketing, new trends in the market, craft and the biz, it was fun to let down your hair, greet old friends and make new. One of the only settings where authors mingle with readers, these nightly parties are perfect for relaxation and fun.
One of Thursday's workshops on creating the ultimate page turner was a great reminder as to the power of the written word to evoke empathy in emotion and the building of worlds possible only in the mind of the individual reader. This is the 'magic' of a book, so often a superior experience over a film. No one but the reader dictates the scene, fills in the details and imagines the world in which he is now immersed. The evening Faery dinner and dance filled the huge ballroom with the most exquisite costumery of the event. Some people plan all year to gather just the right mixture of floating iridescence, gossamer wings, pastel make up, sparking bangles and magical props. Male models escort each costume contestant across the stage. All attendees vote. A surprise winner…a warlock so elegantly made up, not even his best friends could have deciphered his identity. An autumnally elegant female faery took second.
,

All Images By C London
Friday's agent and editor panels were the big draw for aspiring and seasoned writers alike. Agents panel (four representatives)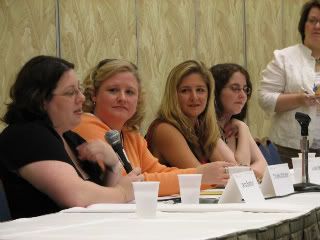 All Images By C Londonesented" (this was only one of the dozen editors–
Bottom line??? What's an author to do?? Seems even the experts are vastly split. If the house you are targeting only takes represented manuscripts, the answer is clear. But being that this is the exception and all the editors agreed that it is better to have no agent than a bad agent, it would seem it is more a matter of comfort level of the author in representing him/herself. All Editors and agents alike agreed that if you have an offer from a legit big house in hand DO NOT ACCEPT IMMEDIATELY. Tell them (after thanking them profusely for reading and loving your work) that you need to consider/think about their offer. It is then and only then that we authors hold the trump card and indeed have a huge bargaining chip. It is then that the author can approach her dream agent and have the best chance of an offer of representation. It is then that the author can bring in the big representation guns and get her best contract. As each agent said "I can't un-shoot that gun" if you have accepted a contract before contacting him/her. They can, however, get the best possible contract in the dream case of this eventuality.
All this said, I spoke with a rather famous, well read e-book authoress at the book signing fair. She told me that she had one of the most respected power house agents in the biz represent her for six months before they parted ways. This authoress felt she was lost in the crowd of the agent's stable of authors and not given what she'd hoped for in representation. So….any author must do the best she can to research whom might best click as far as agent/agency goes. Even then it is no guarantee there will be a match personality- wise. It is much like a marriage and requires a real simpatico. If that special communication is not there, it is time to move on to self or other agent representation. Lack of agent representation should never hold an author back from being what she will always be…her own best advocate!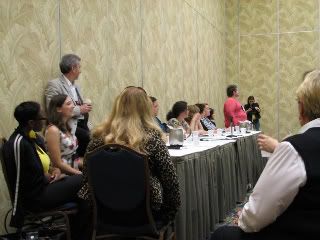 All Images By C London
A panel such as this is one of the only places an author can go to press the flesh and ask the pertinent question of those who are the rockstars of our professional world.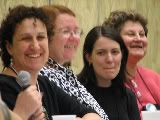 The evening vampire dinner and dance brought out the ghoulish, glamorous and sexy in their best black and blood.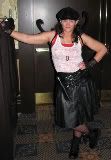 All Images By C London
Entertained by a mystery in form of a skit during dinner, the diner who guessed 'who done it' won a trip to New Orleans. Not bad!

Saturday's ginormous bookfaire attracted readers and fans from near and far. Sponsored by Barnes and Noble, hundreds filed down the myriad aisles buying the latest books signed by their favorite authors and finding some new reads to take home and treasure.

All Images By C London
..
All Images By C London
Following this event perhaps the treat of the entire convention. Multi featured covermodel Mister Jimmy Thomas and two female models allowed conference goers access to a cover shoot.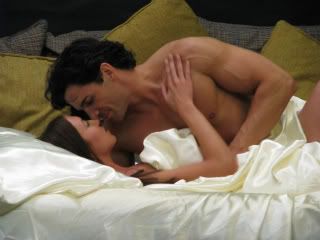 All Images By C London
Steamy would be an understatement. I will post the photos captured on a second blog for those interested in "Christine Goes Florida?? One Steamy Bookcover Shoot". The models answered questions during and after the photography session; Jimmy taking the lead with his experience and knowledge of the biz.
A 'splashing by the shore' dance party drew Saturday to a close with attendees wearing their favorite beachwear. Free books flowed (at many events). Some conventioneers scored so many they are forced to mail boxes of them home. (Awe…poor them—receiving hundreds of dollars of free reading)
Sunday afternoon as I wended my way westward aboard a Jet Blue flight bound for L.A., my mind luxuriated in a sea of images from the previous four days. What a wonderful opportunity to enjoy commradery of collegues and enthusiasm of readers all under the same roof. Next year we reconviene in late April in Columbus, Ohio to celebrate our love of reading and respect for all those who work so hard and share so much of themsleves to carry us away on the wings of a well-spun tale.