Thanks for visiting my blog this fine Six Sentence Sunday. The focus of my 'six' today is Hog Wild- to be released in June through MuseItHot publishing. (http://tinyurl.com/4yxvl9x)
When last I posted my six, we met music promoter Kyle Matthews riding his Harley Heritage Classic down the arid ribbon of highway through Monument Valley, desert southwest, trying to escape the specter of the woman he couldn't have.
Today, let's have a look at the first time he lays eyes on the heroine, Sinclair McTavish. Needless to say there's not a man unaffected by the undulating sensation before him.
Rounding the end of the bench, his eyes caught on the figure of a woman dancing with…what was that?…a pool cleaning pole? She was illuminated in a reddish halo of light spreading outward from a lamp mounted on the side of the restaurant section of the building,long russet hair cascading past her waist, wearing no more than a red lacy bra and microscopic hot pants.
As she dipped the length of the aluminum pole forty-five degrees towards the ground, her hair fell over her face, snaking around her shoulders and waist in silken filaments of spun cinnamon. She leaned backward at the waist, as though being dipped by her partner, the pole, into a reverse camber of sensuous flesh. Hooking slender graceful fingers about the silver cylinder, she swung around it, raising her leg high enough above her head to make a professional contortionist jealous. The length of those legs looked to be the distance from Kayenta to Tuscon.
Catching himself gawking, he felt the same tug of testosterone driven stupidity that drew every male over sixteen and under one hundred poolside. Damn, she was incredible.
Book cover by Delilah K Stephans
Hog Wild
Book Two of a duo. Book one: Shadows Steal the Light
Author: Christine London
Genre: Contemporary Romance Erotica
Release: June 2011
Blurb:
Kyle Matthews might have the music world by the horns, but when he loses out in love to his most famous client and best friend, he escapes into the wilds of the desert southwest on a restorative motorcycle trip. Will the hard driving, salty tongued gorgeous mechanic he relies upon to fix his Harley be able to mend his heart, as well?
Also by Christine London: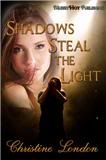 Book Cover by Delilah K Stephans