If you don't know it yet, we are in the midst of a revolution….the electronic book or "E-Book" revolution.
Something else you might not know–I am adding to my backlist of work with two new offerings coming to the electronic format in Feb and June 2011.
The new kid on the block is MuseItUp and MuseItUp Hot publishing out of Canada. My books are titled Shadows Steal the Lightand Hog Wild offered through MuseItUp Hot. You can now have a preview by looking over on my website "books" page. There's a temporary cover up for Hog Wild which will soon be replaced by the final product. Shadows is awaiting its cover–coming soon. www.christinelondon.com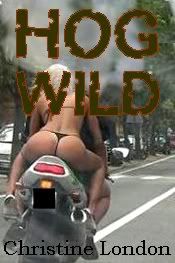 working cover by Alex Kent
In the meantime have a look at MuseItUp's other 'Coming Soon' offerings. The cover artists there are doing a wonderful job giving the publishing house a classy look few can match. Here's the address to see the covers: http://www.facebook.com/album.php?aid=17099&id=100000439116884
Now as for today's Anniversary BLOG TOUR offerings:
Dominique Eastwick (#4)
http://www.wix.com/Dominique_Eastwick/Dominique%20Eastwick/1RE%20Web%20Tour
AND

Bryk Tyne (#5) Click Here
Don't forget you have to be registered to get your "participant number" to leave with each comment you make to enter you in the contest to win many great prizes including GRAND PRIZE of a Sony E-Reader.
Home base for registration and info is CLICK HERE