All images on WonderCon Blog by C London
For three days in early spring the Moscone Center in San Francisco is populated by a special kind of fanatic. Those who read comic books and patron the various spin off works gather under one enormous roof to ogle. Storm troopers mix with Freddie Krugers mingle with Hiccup and Dragons. Beloved characters spanning generations sweep through the doors, faces eager, beaming with the enthusiasm only a fan can produce.
All images on this Wonder Con blog by C London
To the uninitiated some might think 'silly', but when one stops to consider the importance of fiction in the psyche it all becomes clear. Into each life there comes a highway to escape from the mendacity of the everyday. Some watch or participate in sports, some read, the mechanically inclined tinker others– avid film buffs. At Wondercon the blend is some of the most enthusiastic.
Each year the largest meeting venue, the Esplanade ballroom, fills to capacity with those who know they will be mesmerized, charmed and thrilled by the creative offering of such studios as Disney/Pixar, Warner Brothers, and ABC. Over the past few years the presentation/panels at Wondercon and its big brother Comic Con have become increasingly the territory of large Hollywood studios using their resources and clout to promote upcoming projects. As recently as two years ago, panel presentations were balanced between creative behind the scenes people and those in front of camera. This year most of the members sitting at microphones were actors with a few notable exceptions.
While the smaller conference rooms downstairs run workshops for those interested in becoming artists in this world as well as Anime, Manga, Children's films and the world of the gamer features; the 'stuff' inspired fans stroll the tables of the exhibition hall. Those who want a preview of the up and coming visual offering crowd the four thousand seat hall to see what Hollywood and television have to present over the course of the next six to twelve months. Clips and trailers light the screens followed by moderated discussion and questions taken from audience members.
The morning began with a presentation of the pilot show for the upcoming ABC series Happy Town premiering on April 28th. Stephen King inspired horror mixes with good old-fashioned who-done-it in this promising new T.V. show starring Geoff Stultz (She's Out Of My League), and M.C. Gainey (Lost).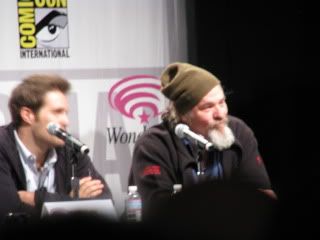 All images on this Wonder Con blog by C London
Disney and Pixar spent the next two hours showing us previews of the summer blockbusters. A C.G.I cornucopia beginning with the film inspired by the popular game Prince Of Persia: The Sands Of Time starring Jake Gyllenhaal.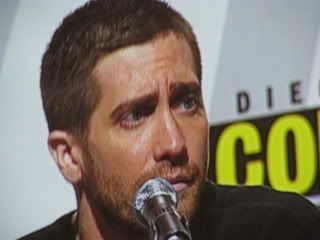 All images on this Wonder Con blog by C London
He is charged with keeping safe an ancient dagger that is gift from the Gods empowering the owner with the ability to reverse time and allow its possessor to rule the world.The Sorcerer's Apprentice will be a live action movie in which Nicolas Cage (the sorcerer), recruits Jay Baruchel as his reluctant apprentice– opening this May.
All images on this Wonder Con blog by C London
Producer Jerry Bruckheimer added interesting insight into the process of filmmaking. Woody and Buzz Lightyear will return in Toy Story 3 where the toys are sent off to a day care center when their owner Andy goes off to college. We were treated to some voice over fun.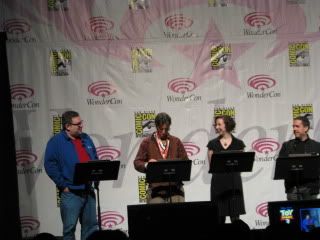 All images on this Wonder Con blog by C London
Resident Evil 3D Afterlife had kick ass heroine actresses Mila Jovovich and Ali Larter present as well as Mila's hubby Paul Anderson– director/writer.
Warner Brothers two hour slot featured the shoot 'em up "Losers"– Zoe Saldana
Splice with Adrian Brody and Sarah Polly is a creature feature with elements of biological cloning/splicing of human DNA to create something they regret.
All images on this Wonder Con blog by C London
The Watchmen's (Rorschach) Jackie Earle Haleytakes the baton from Robert England in this recreation of the classic horror flick. Christopher Nolan (Momento, The Dark Knight) and his wife, Emma Thomas presented a peek at the upcoming Sci-Fi futuristic film Inception.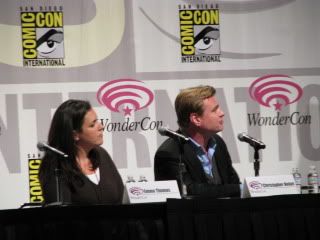 All images on this Wonder Con blog by C London
Mister Nolan was most fascinating in not only his description of the plot of this film and its look at where dreams are intellectual property as commodity to be stolen, but also his knowledge of the inner workings of filmmaking.
The always popular half hour trailer park gave us a look at Iron Man 2, the third installment in the Twilight series-Eclipse, Robin Hood with Russell Crowe and Kate Blanchette, Predators directed by Robert Rodriquez before the final presentation of Lionsgate's much anticipated Kick Ass where nerd are superhero 'life option' characters that win the day. (Isn't that every teen's dream, past and present?)
All images on this Wonder Con blog by C London
Star Trek's TNG had representative signing autographs in the exhibit hall along with other notables.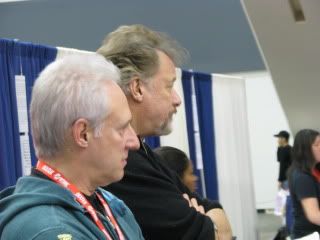 Brent Spiner and John de Lancie image by C London
We said goodbye to the convention center to enjoy an Italian meal resplendent with garlic and complex herbaceous flavour. As the shadows of twilight swallowed day's crisp definition and the city lights flickered on, I watched my fellow diners enjoying Saturday night in one of the most beautiful cities on the globe over white linen tables, candlelight and red wine.