Screenshot by C London
Saturday in San Francisco Moscone Center's Esplanade Room was a film love fest repleat with something for nearly all tastes. The day began with the panel presentation, discussion and Q&A from the panel for the highly anticipated release of the Watchmen. On March 6th the wait will be over for fans of this most popular graphic novel turned film. After years of development hell, director Zack Snyder has fashioned a retelling as true to the novel as his previous smash 300 was to the Frank Miller original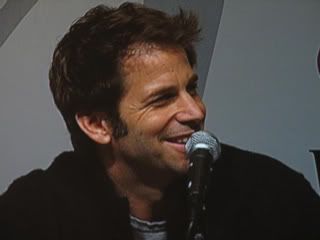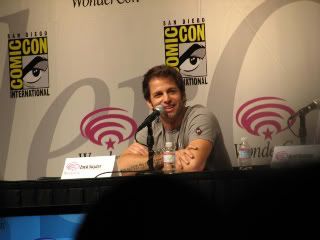 Images of Zack Snyder by C London

Cast members added their enthusiasm to Zack's smooth presentation of the first 17 minutes of the film. Brilliantly creative camerawork/framing/angles combined with bonechilling storytelling launches the film into the hearts of fans as well as those who know nothing of the tale. Two of the best known actors, Jeffrey Dean Morgan (Gray's Anatomy, P.S. I Love You) and (practically perfect) Patrick Wilson (Raoul in Joel Schmacher's Phantom of the Opera, Angels In America) sat in affable friendship enjoying the screening of the film as much as the four thousand fans that packed the hall.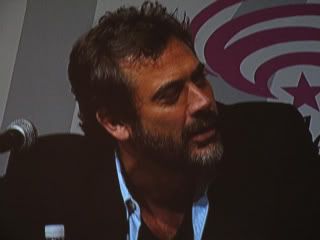 Image of Jeffrey Dean Morgan By C London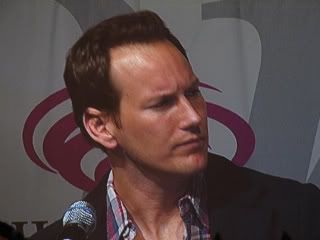 Image of Patrick Wilson By C London

Image By C London
Director JJ Abrams (Alias, Lost, Mission Impossible 3) presented a knock out trailer for the return of the Star Trek franchise to the big screen.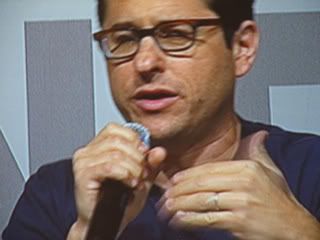 May 8th will bring the prequel to the original television series to the big screen much to the delight of fans new and old. Chris Pine and Zachary Quinto will recreate the duo of Captain James T. Kirk and his first officer Mr. Spock.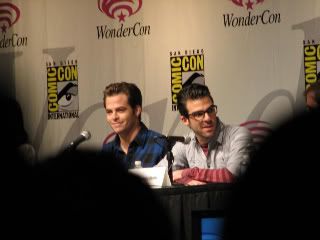 Image of Chris Pine & Zachary Quinto by C London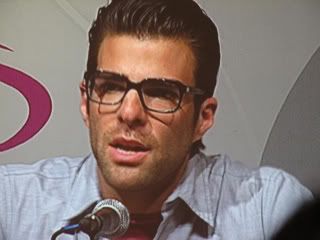 Image of Zachary Quinto By C London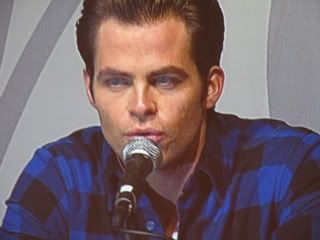 Image of Chris Pine By C London


Image of Zoe Saldana By C London
..
Fifties Sci-Fi homage film, Alien Trespass staring 'Will' of TV's Will and Grace (Eric McCormack and girl next door, Jenni Baird) is coming to theaters to entertain those who just can't get enough of the charming period genre.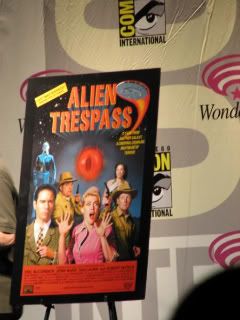 Image of Eric McCormack & Jenni Baird By C London
Perhaps the hit of the day was the presentation made by the Pixar folks. Director and writer, Pete Docteur and Producer Jonas Rivera screened footage from what is sure to be a big hit. The audience roared at the antics of the unlikely characters as surprise after surprise illuminated the screen seducing the overflow room under its spell. What genius comes out of Marin County with each new offering from these charismatic artists.
Carl Fredricksen (voiced by Edward Asner) is 78 years old. When Carl was a child, he met and eventually married a girl named Ellie who grew up in a small midwestern town. Ellie always dreamed of exploring the mountains, but she died before she got a chance. Now, when developers threaten to move him into an assisted living home, Carl decides to fulfill his promise to Ellie. To accomplish this, he uses a huge number of balloons to make the house fly – but unwittingly takes a chubby eight-year-old Wilderness Explorer named Russell with him. The two opposites match up for thrilling adventures as they encounter wild terrain, unexpected foes, and all the terrifying creatures that wait in the jungle.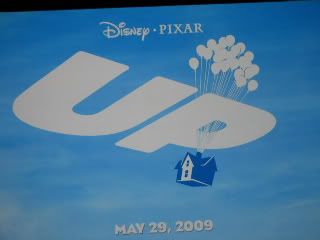 Screenshot by C London

Another reinvention undertaking sure to draw in the action crowd, Terminator: Salvation will be released May 21st.
After Skynet has destroyed much of humanity in a nuclear holocaust, a group of survivors led by John Connor (Christian Bale) struggles to keep the machines from finishing the job.
Cast members on panel included Anton Yelchin (playing Kyle Reese), Bryce Dallas Howard (Kate Conner), Moon Bloodgood as Blair WIlliams and rapper "Common" as Barnes.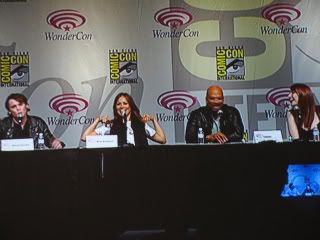 Image of Anton Yelchin by C London


Image of Bryce Dallas Howard by C London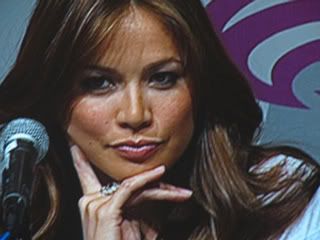 Image of Moon Bloodgood by C London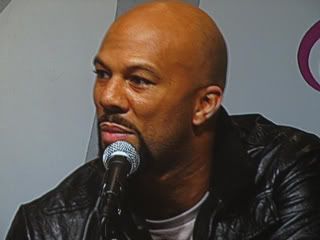 Image of Common by C London