More news to tell….
The book cover for Leap Of Faith is up for an award. Pop over to "You Gotta Read Covers and Reviews" to have a look at the twenty choices for best cover of the month (Leap Of Faith is #14…a–hemmm) Vote please !!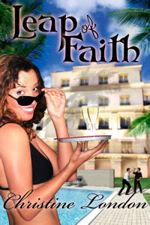 Book Cover Art by Alex Kent
Here's the address:
http://yougottareadcovers.blogspot.com/
And don't forget to register at the host site to hop on the blog bus for their one year anniversary celebration. Tomorrow is day one and there are two great author's blogs to visit
#1 Cherie De Sues and #2 AMP Sandra Hicks
Once you have registered you will have a 'participant number' to use every time you comment. Each comment not only enters you to win the daily author's prize, but each comment with your participant number included is one more entry to win the Grand Prize of a Sony E-Book Reader!
The tour goes through the end of the month. My blog will be on the 28th. Chop, chop and go register!!
CLICK HERE